Tank Calibration
Global Remote offers inspection and calibration surveys of tanks of any size, shape or design. We survey tanks designed to hold oil and gas products such as crude oil, petroleum products, LPG, etc. as well as tanks designed for storage of bulk liquids, such as brewery tanks or solids, such as food or grain.
We have the high-tech equipment and skilled staff to carry out advanced tank calibration surveys, providing you with the most accurate data available. The software we use is versatile and works with a variety of tank shapes and sizes. Although we use state-of-the-art equipment and highly-trained staff, the service we offer is highly cost effective.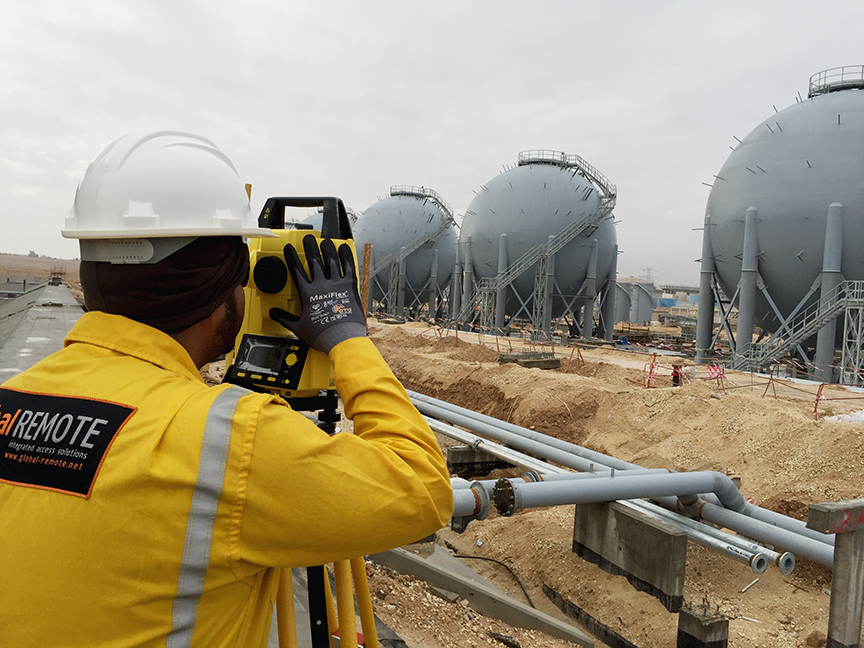 Our technicians and engineers use laser measuring devices to speed up the surveys, while also guaranteeing a high degree of accuracy. We also offer an Electro Optical Distance Ranging (EODR) laser scanning service for greater speed, safety and lower impact when strapping tanks used for storage.
All of our tank calibration services adhere to international standards ISO or standards set by API (American Petroleum Institute).
Storage Tank Calibration
Tank calibration is the science of determining the exact true volume of a containment system corresponding to a certain measurement value. Reliable quantity measurement is the critical basis of good contractual relationships in worldwide trading of chemicals, petroleum products and liquefied gases. This can only be assured by accurate and regular calibration. At Global Remote, we use the latest and the most innovative laser-calibration measurement technology to help companies to reduce time and costs of tank management, as well as offering precise storage tank calibration to International Standards.
Our tank calibration experts have over two decades of experience in dealing with calibration inaccuracies and providing great value-add know-how in the fields of storage tanks calibration and measurements. We can conduct field or site dimensional measurement for various Tank Shapes as follows:
Vertical Cylindrical Tank
Horizontal Cylindrical Tank
Spherical Tank
Or any Regular Volumetric Tank
Depending on the Tank size and shape, Client's requirement or Local Govt. regulation GR follows below-mentioned API standards which includes the subject of tank calibration; 
Chapter 2.2A Measurement and Calibration of Upright Cylindrical Tanks by the Manual Tank Strapping Method. Chapter 2.2B Calibration of Upright Cylindrical Tanks Using the Optical Reference Line Method.
Chapter 2.2C/ISO 7507-3:1993 Calibration of Upright Cylindrical Tanks Using the Optical-Triangulation Method.
Chapter 2.2D/ISO 7507-4:1995 Calibration of Upright Cylindrical Tanks Using the Internal Electro-Optical Distance Ranging Method.
Chapter 2.2E/ISO 12917-1:2002 Petroleum and Liquid Petroleum Products—Calibration of Horizontal Cylindrical Tanks – Part 1: Manual Methods
Chapter 2.2F/ISO 12917-2:2002 Petroleum and Liquid Petroleum Products—Calibration of Horizontal Cylindrical Tanks—Part 2: Internal Electro-Optical Distance-Ranging Method.
Chapter 2.2G Calibration of Upright Cylindrical Tanks Using the Total Station Reference Line Method Standard 2552 Measurement and Calibration of Spheres and Spheroids
Ship Tank Calibration
Global Remote provides accurate and detailed measurement and calibration of large petroleum, fuel, and chemical cargo storage tanks. Tank calibration includes shore tanks and ship tanks used for holding crude oil, refined petroleum products, LPG, LNG, and other wet or dry bulk cargoes. Using the latest technology for tank calibration, engineers and technicians are equipped with state-of-the-art measuring devices. Global Remote measures and calibrates tanks of various shapes, sizes and designs. Loss Control investigations are available from seasoned experts with years of industry experience.
Measurements include detailed assessments of wall verticality roundness and shape, along with roof & floor profiles. Tank calibrations are conducted to the exacting requirements of the appropriate international standards published by the International Standards Organisation (ISO) or by the American Petroleum Institute (API). Detailed volumetric tables are compiled for each tank and can be formatted according to the client's requirements. Comprehensive tables can incorporate any standard units of measure for size, volume or both.
Petroleum and chemical storage tanks calibrated:
Vertical Tanks
Horizontal Tanks
Spherical Tanks
Cylindrical Tanks
Double-wall Tanks
Fixed Roof Tanks
Floating Roof Tanks
Domed Roof Tanks
Conical Roof Tanks
LNG Tank Calibration
Tank Structural Profile
Storage tanks require periodic surveys to monitor long and short-term movements, settlements of the foundation and other deformations such as tank shell deformation due to liquid head pressure, unproportionate sand and backfill materials or tank foundation distortion.
Global Remote specialized for tank floor settlement and tank verticality and measuring the deformation of the tank shell from the outside or the inside of the storage tank. Global Remote adheres to API 653 standards for Tank Structural Profile Survey.
Tank Structural Profile Survey includes:
Tank Roundness/Ovality Survey.
Tank Plumbness/Verticality Survey.
Tank Shell Settlement Survey.
Tank Bottom Profile Survey.
Contact
 India
+91 44 6666 1000 ~ 1099
 Bahrain
+973 17 811 757
 UAE
+971-26224033
 Qatar
+974 4481 6986
 Azerbaijan
+99412 441 58 82
 USA
+1 972 961 4814
 Turkmenistan
+993 12 483303
 Iraq
+964 7508689553
Email