Ammonia Tank Inspection
Periodically, refrigerated anhydrous liquid ammonia storage tanks must be inspected internally for integrity checks. This is a complex task which requires an appropriate level of competence and experience of ammonia storage tank design and operations. Some operators have only one single ammonia tank without spare capacity. This creates an additional pressure in terms of project managing the shutdown, decommissioning and inspection of the tank as well as reducing the total downtime since the production impact is highly costly.
Global Remote understands these challenges very well and we develop a comprehensive decommissioning inspection and repair plan. We offer a complete package from Decom, Inspect, Repair & Commission combined with advance NDT Inspection and using Rope Access techniques (cost effective alternative to traditional access methods, such as scaffolding or mobile elevated working platform) during tank inspection we minimise the downtime and reduce the out of production time for anhydrous liquid ammonia storage tanks.
Our work methodology includes:
Detailed job risk assessment
Decommissioning and inspection HAZOP study
Planning activities based on existing site condition
List of equipment and materials required
Inspection Procedure

Tank building location and specification
Emptying the tank
Key process parameters
Tank valve isolation for heating purpose
Inerting of system and purging with nitrogen
Gas sampling
Manway opening sequence
Danger of asphyxiant gas
Purging the tank with air
Readiness for confined entry

Non Destructive Inspection (VT, PT, MT, MFL, HT, RT etc)
Tank Floor & Foundation Inspection
Tank Repairs
Commissioning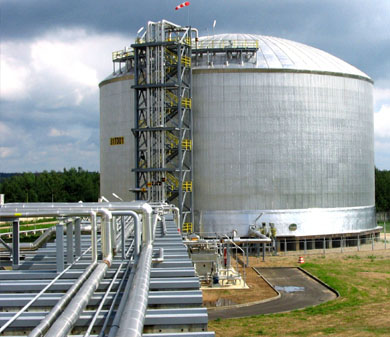 Contact
 India
+91 44 6666 1000 ~ 1099
 Bahrain
+973 17 811 757
 UAE
+971-26224033
 Qatar
+974 4481 6986
 Azerbaijan
+99412 441 58 82
 USA
+1 972 961 4814
 Turkmenistan
+993 12 483303
 Iraq
+964 7508689553
Email