Technical Glazing Supply and Installation
Asset

City Center Mall – Bahrain

Enova Energy and Facilities Management Services SPC (ENOVA)

Location

Onshore. Manama – Kingdom of Bahrain

Duration
IRATA x 5 man team
Facade Technical Supervisor x1
Project Coordinator x1
Mechanical Engineer x1
Project Manager/TA x1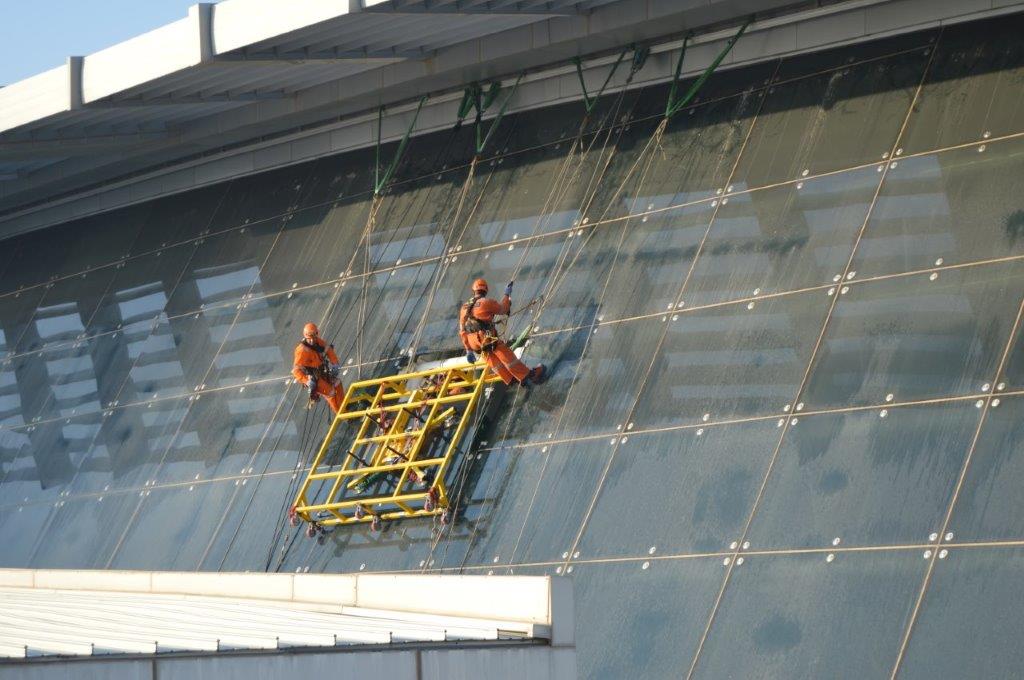 The largest shopping mall in Bahrain had recognised a number of large cracked glazing units on the exterior of a centrally located atrium facade. The critical nature of the location above an active mall, and the difficult access to the inclined facade, demanded that a unique, timely and safety conscious solution was required.
Project Scope
Supply and replacement of 12 cracked glazing units on an inclined facade by rope access methods (glazing units of 350kg each, dimensions 1.8m x 2.8m, and x4 laminations).
Challenges
Difficult lift of glazing units from delivery point to nearby to the atrium facade
Large and heavy glazing units on an inclined facade
Very short turnaround of removal and replacement time due to operational hours of the mall
Operating hours on the facade restricted to 12am – 5am
GR Approach
Owing to the unique environment and challenges of the site, a specialised lifting and transport jig, specifically designed and engineered for this project was required. This jig enabled the glazing units to be lifted, enclosed within the device from a delivery point, up to a nearby roof, transported across that roof, and then onto the hoist system on the inclined facade. A battery driven vacuum unit built into the device was then utilised, enabling the glazing units to be positioned and lowered at an appropriate angle to the inclined facade. Internally, directly under the glazing panel to be removed, rated metal catch nets were installed to protect against any dislodged broken glass or any dropped object.
GR Manager Comments
"The unique lifting jig, coupled with very a well-planned and scheduled project, enabled a high level of team efficiency, and resulted in the timely completion of the project without incident. The resultant learning from the project enabled the Bahrain business to secure major facade restoration projects in Bahrain." Nareshkumar G. Operations Manager – Global Remote Bahrain.
Client Testimonial
"A very professional approach to completing the job and observing the safety standards." Saeb Al Ali – Operations Manager. ENOVA.