Heat Treatment of Pressure Vessel
Asset

Newly fabricated pressure vessels. Tatweer Petroleum Non-Associated Gas project

Mechanical Contracting and Services Company (MCSC), TDE Group and Tatweer Petroleum

Location

MSCS Fabrication yard, Kingdom of Bahrain

Duration

Project Coordinator x 1

Heat Treatment Technicians 

x 6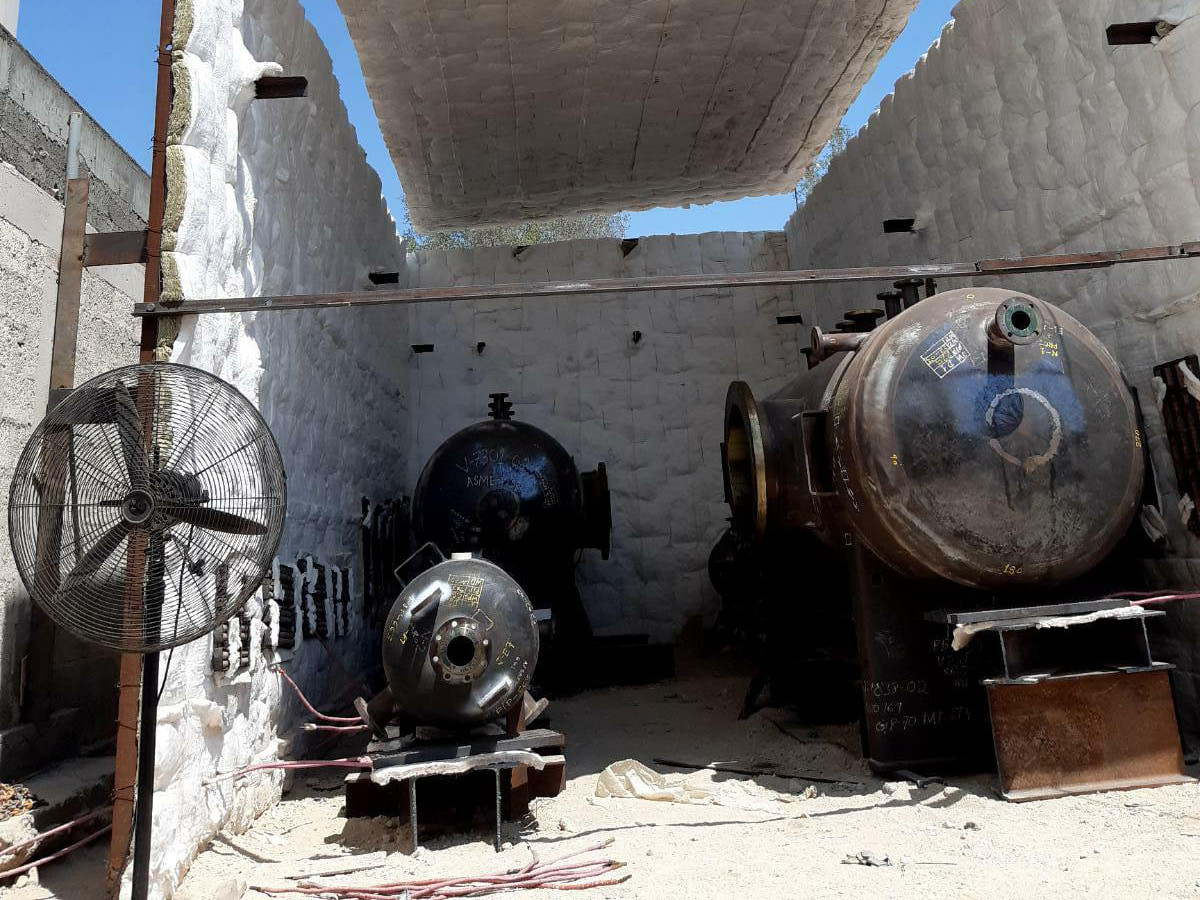 One of our respected repeat clients, Mechanical Contracting and Services Company (MCSC), approached Global Remote for the post-weld heat treatment of a range of pressure vessels being fabricated for Tatweer Petroleum's expansive Non-Associated Gas project in the Kingdom of Bahrain. The very short project time line, and requirement for a unique temporary furnace system, necessitated a skilled experienced service team from Global Remote Bahrain.
Project Scope
Post-weld heat treatment (PWHT)/ stress relieving of 100% of the weld seams of a range of medium and large pressure vessels (6 nos) being fabricated for TDE Group and Tatweer Petroleum's expansive Non-Associated Gas (NAG) project in the Kingdom of Bahrain.
Challenges
Short turnaround of design, development and fabrication of the temporary furnace, that could be easily disassembled, transported, and set up at any client facility
Compliance to a number of international codes and standards including the ASME Section VIII Division 1
GR Approach
One of our respected repeat clients, MCSC, approached Global Remote with a requirement to heat treat and stress relieve a number of newly fabricated medium to large pressure vessels. Following an initial brief consulting phase with the client, establishing the key constraints and critically that local heat treatment systems were not suitable, the Global Remote team recommended and developed a transportable, lightweight, low-thermal-mass temporary furnace installation. The temporary furnace (L-8M x W-4M x H-4M) was built utilising ceramic fiber thermal insulation and employed an electrical resistance heating method using 4-bank channel heaters. The use of these heating panels as heating elements, enabled the process to be controlled with precision via the corresponding control units. With this furnace, vessel of diameters of up to 3,000 mm and length of 7,500mm could be heat treated. The time and processing of loading and unloading the furnace was further enhanced by a removable roof section and mobile crane.
At the time of this project, Global Remote was the only company offering these heat treatment services in the Kingdom of Bahrain. The temporary furnace solution provided by Global Remote proved to be a fast, convenient and cost-effective alternative to permanent furnaces and the high cost of transporting components to fixed installations.
GR Manager Comments
"The Global Remote team has completed this significant challenge with great proficiency, completing the design, fabricate and execution phases of the project within the clients time frame with zero safety violations and satisfying all the required quality constraints". Mahesh P Raju. Operation In charge – NDT Division. Global Remote Bahrain.
Client Testimonial
'Global Remote conducted themselves well, performing a very good job in a very cooperative and professional manner'. Sekhar Das – Head Workshop. MCSC.