Asset

Rasgas Company Limited/ Trags

Location
Duration

14 days (4 days ahead of planned schedule)

Project Coordinator x2
Project Manager/TA x1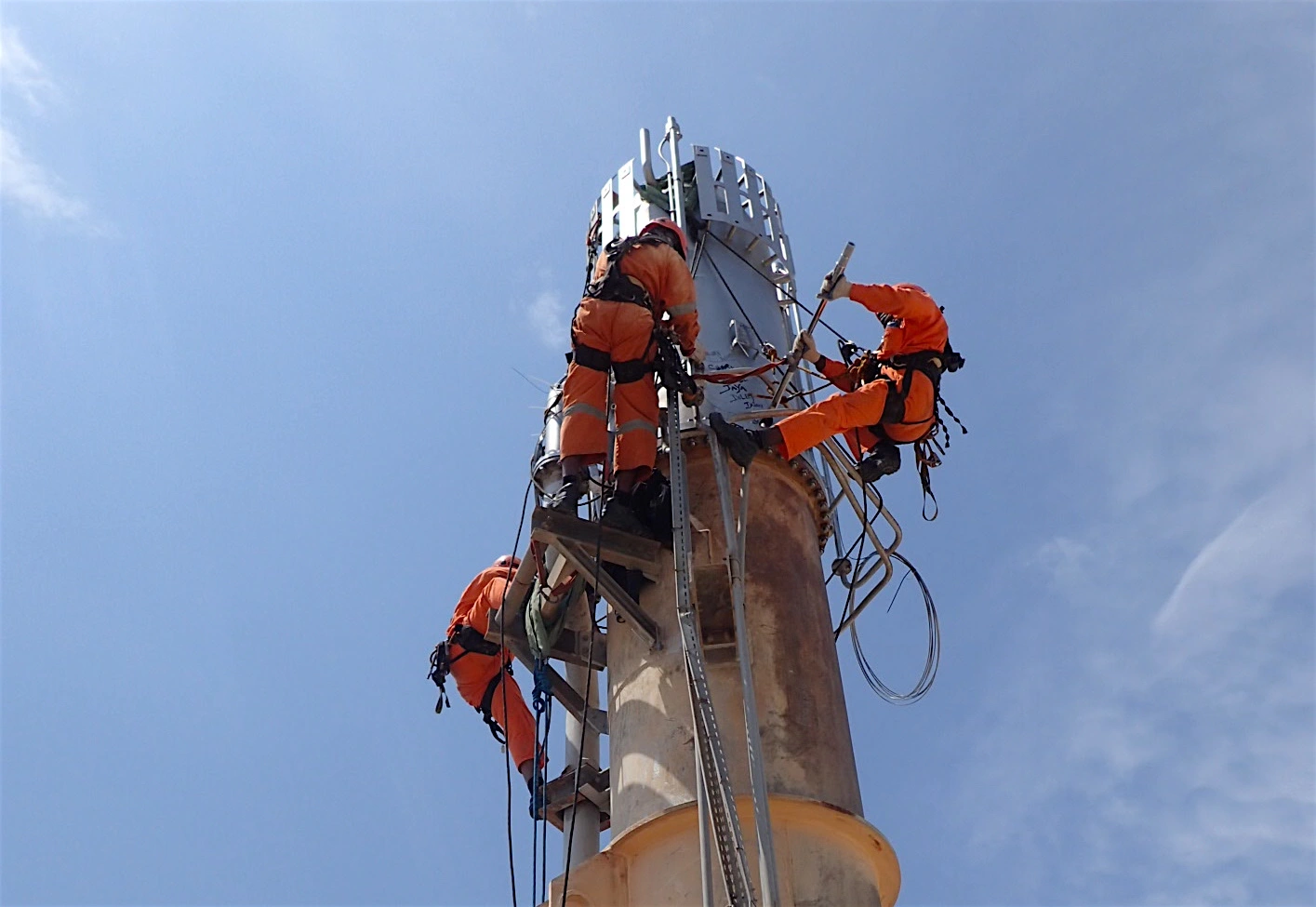 An earlier visual inspection carried out by drone established significant damage to four flare tips and the top structural module of the derrick. The client required the replacement of the damaged flares and replacement of the top module structure, all within a very short shutdown period. The project scope and timeline demanded the utilisation of a highly experienced structural remedial team of rope access professionals.
Project Scope
Replacement of four flare tips and top module derrick structure. Replacement of flare guide rails and rollers. Replacement and re-wiring of aircraft warning lights and close visual inspection of entire derrick and piping systems.
Challenges
Derrick elevation of 140m
Flare tips weight of 14-16 tons each
Replacement of entire damaged top module
Operational flares nearby. Risk of heat radiation and toxic gas during flare bursts
GR Approach
The project demanded the deployment of our flare replacement and construction team for a schedule of day and night shifts. Additionally, stringent rescue and evacuation planning to the client's demanding HSE protocols was required, incorporating specialised PPE and access equipment, continuous gas monitoring, and live communications with the client control rooms.
GR Manager Comments
"Careful planning and scheduling, rigorous monitoring, and close daily communications with the stake holders ensured the GR team executed the project safely, in a seamless manner, and four days ahead of schedule." Shabir S. Operations Manager – Global Remote Group Qatar.
Client Testimonial
"Well trained, professional and motivated team. Exhibited excellent team work. Many thanks to all." Ashok Kumar – Construction Manager. Trags.
"A successful work completion without any LTI and ahead of schedule. All appreciation out to the gents for your efforts in this." Joji A. Sam – Senior Planning Engineer. Trags.
"Thanks to the entire team for the safe and successful completion of the Flare-3 shutdown. Great work and dedication. Much appreciated." Rajesh T. Menon – Senior Planner (Utilities) – Maintenance Planning. Rasgas.